RIZOSFERA NEWSLETTER DECEMBER 2022 (FIRST) :: CLOCK DVA NOESIS :: FIRST SPECIAL EDITION
CLOCK DVA :: NOESIS :: RIZOSFERA – ARMCOMM EUROPE ARMEU 004 :: BOXED SET WITH 16-PAGE BOOKLET (ENG) WITH VINYL 33RPM, CD A5 DIGIPACK, CIRCLE CARD USB 2GB + DIGITAL STREAMING
Rizosfera and ARMComm Europe are happy to announce new CLOCK DVA's album – NOESIS – 30 years after SIGN (1993) and ten years after POST-SIGN (2013).
Noesisis Clock DVA's ninth studio album having been composed and perfected over the past 4 years (2018-2022) during which extensive European live events were performed and other projects were developed. This new album sees the DVA reach a new futuristic level in electronic sound and reaffirms the unique voice they have developed since 1978. Increasingly acknowledged as one of the main pioneering groups of the Industrial/Experimental/Electronic wave of the late 1970s, alongside Throbbing Gristle and Cabaret Voltaire, Clock DVA have developed a unique philosophical perspective and peculiar sound based on the increasingly technological accelerationof our contemporary society, previously explored in albums such as Buried Dreams, Main Amplifiedand in the later works of 2010/2020.
In the newest work Noesisthe themes deal with the human emotional response to the psychological and physiological dystopia between a Technology of Control and one of Autonomy and Noesis. The sound of future science fiction over time increasingly denies the human dimension by making it eroded and estranged just as AI becomes more and more ubiquitous and the human imprint is increasingly lost along with the human voice being silenced by Machines of Intimidation. Clock DVA stand as a sign post in these uncertain times.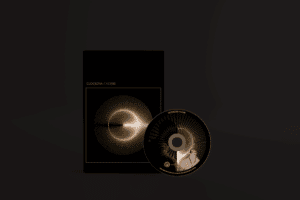 PRE-ORDER STARTED ON 26TH NOVEMBER 2022 AND WILL LAST UNTIL 29TH JANUARY 2023. BOOK YOUR COPY ONLY FROM RIZOSHOP / CHOOSE YOUR BOXED SET OF NOESIS :: CLICK HERE
The special pre-order edition is a First Numbered Edition limited to 500 copies, consisting of a BOXED SET containing new Clock DVA sonic material, all previously unreleased (11 tracks). The official release of the Noesis album will be on 30 January 2023 in the traditional 33 rpm Vinyl (7 tracks) and CD A5 Digipack (11 tracks), which can be purchased separately from that date (30/01/2023). For those interested in the NOESIS BOXED SET pre-order, we have set up a dedicated email to ask for more information : noesis.preorder@rizosfera.org
Noesis is composed and produced by Adi Newton (Voice / Electronics) and TeZ Maurizio Martinucci (Electronics / Woodwind / Treatments). Noesis was recorded at Optofonica, Amsterdam (NL) between 2018-2022 / Mastering by Jac Beloeil, London, 2022. Lyrics by Adi Newton / Cover & Booklet Images by E. Gabriel Edvy / Design Adi Newton / Graphic LayoutbyGabriele Fantuzzi at Delicatessen Design / Digital streaming powered byAndrea Corsiniat RS1 Project.
.

Subscribe to our newsletter

If you are interested in this content and would like to stay up-to-date on new Rizosfera productions, events and other information, you can subscribe to our newsletter and we will send you an email from time to time with a summary of the latest news you may have missed.