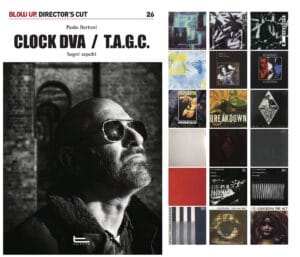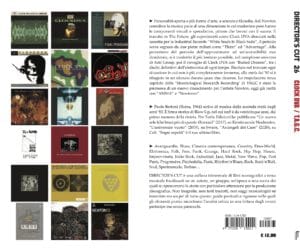 Paolo Bertoni – Clock DVA / TAGC. Sogni sepolti – Tuttle Edizioni, 132 pages (Pic Book Cover by Gabriel E Edvy)
We are pleased to announce the release of a new Italian language book on Adi Newton, edited by Paolo Bertoni for Tuttle Editions. The book is available from 1st April 2022 as follows :
for the annual subscribers of Blow Up, the famous Italian music magazine, the book is free and will be sent directly to the subscriber's address with the CD Organ Needles by TAG/The Anti Group – The cost of the subscription is 70 euros for 11 issues. Not subscribed yet? Now is the right time to do it. Blow Up is the Italian equivalent of The Wire, with an excellent analytical capacity and quality of writing. Please note that both the magazine Blow Up and the book Clock DVA/TAGC are exclusively in Italian.
 will be on sale at the price of 12 euro at Tuttle Edizioni ( website https://www.blowupmagazine.com/ )
 will be on sale for 12 euro at Amazon, the generalist platform we all know
 it will be on sale on our website Rizosfera, in combination with TAG's Organ Needles at 32 euro (12 euro for the book + 20 euro for the CD) :: please send a specific mail to associazioneculturalerizosfera@gmail. com
 will be on sale on our website Rizosfera with the offer ARMCOMM ASSEMBLAGE I, II, III (including a number of ARMCOMM EUROPE releases – CLICK HERE TO ORDER)
Bio Paolo Bertoni
Paolo Bertoni (Rome, 1964) has been writing about music since the mid-1980s. Ciao 2001, Blast!, Dynamo!, FareMusica are some of the publications he has collaborated with. He has been on the staff of Blow Up since 1997, from the first issue of the magazine. His publications include books on Einstürzende Neubauten 'A new sun (which burns more than it illuminates)' (2017), Swans 'The universal void' (2019), Coil 'Archangels of Chaos' (2020).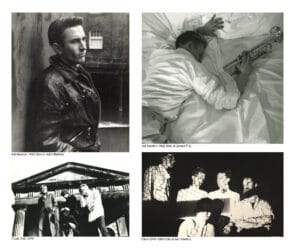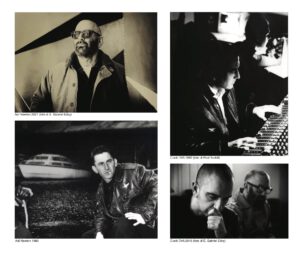 Bio Adi Newton
Clock DVA are one of the pre eminent pioneers of late 70's/80's experimental music along side and in collaborative association with Throbbing Gristle and Cabaret Voltaire. As one of the founder members of The Future, which evolved into The Human League, Adi Newton began his life long involvement with sound via painting and through a theatre project which began his involvement with sound, he founded Clock DVA and TAGC/The Anti Group in 1978.
Clock DVA's acclaimed albums include the 1988 album "Buried Dreams" (Considered by many as an electronic masterpiece) and the 1980 electro-acoustic album "Thirst" released on the cult label Fetish. Considered by Paul Morley in his NME Album review as one of the Best Debut Albums of the 1980's, it sat alongside Joy Division's "Unknown Pleasures" and The Fall's "Dragnet". Clock DVA continue to present and release new music and perform critically acclaimed audio visual works and performances through out Europe and the USA.
Newton also Directs TAG/The Anti Group an independent multi-media research & development project active in many related areas. Strictly speaking TAG are not a group, but a variable collection of individuals contributing under invitation and the directorship of Adi Newton. Genre-breaking works include the ambisonic album "Digitaria" 1986 and "Test Tones", a series of pioneering albums, produced in 1985/6 which have had lasting impact on the development of extreme forms of electronic music.
Newton has also been involved in numerous art museum presentations and performances, including the prestigious ARS Electronica Linz, The V & A London and Art Futura Museo Nacional Centro De Arte Reina Sophia Madrid. He has recently returned to painting and intends to explore and develop his multi discipline practice into the art and painting arena with sound and visual installations while still remaining very active within the DVA/TAGC projects. Throughout all these, Newton directs all projects as well as the multi media production company ARMComm/Anterior Research Media Communications.
In 2022 he founded with Rizosfera the hybrid media A/R/E project Armcomm Rizosfera Europe and the experimental audiovisual label ARMCOMM EUROPE.
"Adi Newton has long since described the process of making music as his research. It represents a more thoughtful and reflective body of work than that which dominates his peer group. In particular, Newton's grasp of the philosophical connotations of technology placed him apart from the majority of its practitioners." – NME
.

Subscribe to our newsletter

If you are interested in this content and would like to stay up-to-date on new Rizosfera productions, events and other information, you can subscribe to our newsletter and we will send you an email from time to time with a summary of the latest news you may have missed.