TAG (THE ANTI GROUP) :: ORGAN NEEDLES
RIZOSFERA-ARMCOMM EUROPE :: CD A5 DIGIPACK + 10 DOUBLE-SIDED POSTCARDS :: 12 TRACKS :: TOTAL TIME 77'02" :: RELEASE DATE 15 JANUARY 2022 ::  mail associazioneculturalerizosfera@gmail.com 
Organ Needles is the first release of a new post-media label founded by Adi Newton's Arcomm and Obsolete Capitalism's Rizosfera. Armcomm Europe is its name. Organ Needles is a work of Psychic Automatism.
In 1917, French writer Philippe Soupault discovered a copy of Comte de Lautréamont's 'Les Chants de Maldoror' in the mathematics section of a small Parisian bookshop, near the military hospital to which he had been admitted. In his memoirs Soupault wrote: "By the light of a candle that was permitted to me, I began reading. It was like an enlightenment. In the morning I read the Chants again, convinced that I had dreamed…  The day after, André Breton came to visit me. I gave him the book and asked him to read it. The following day he brought it back, enthusiastic as I had been." A Surrealist manifesto was written by Breton and published in 1924 as a booklet (Manifeste du surréalisme. Poisson soluble, Editions du Sagittaire, Paris, 1924) in which he defines the objectives of Surrealism as "psychic automatism in its pure state, by which one proposes to express—verbally, by means of the written word, or in any other manner—the actual functioning of thought. Dictated by thought, in the absence of any control exercised by reason, exempt from any aesthetic or moral concern".
It was on a Radio 4 Program around 1974 that I heard the British Surrealist Robert Melville talk about surrealism, explaining that Jazz was a form of pure Psychic Automatism as Breton had announced in his Manifesto of 1924. This Thought and the conception of the Objectives stayed with me and influenced the way I approached Art and eventually Sound along with the concept of Chance which Stéphane Mallarmé had introduced and which can be seen in the evolution of 20th century music. The advent of modernism is often pegged to Debussy's 1894 composition "Prelude to The Afternoon of a Faun", a meditation on Mallarmé's most famous poem. John Cage and Pierre Boulez, masters of the musical avant-garde, studied Mallarmé's explorations of chance and discontinuity. Perhaps the most prolonged resonance was in French philosophy and theory. From Sartre and Lacan to Blanchot and Derrida and on to Badiou, Kristeva, and Rancière, French thinkers have defined themselves through interpretations of Mallarmé. It is in these elements and Concepts that I placed in the Earliest works and Manifestos of the Anti Group such as 'The Delivery' (1985) and the subsequent development of these concepts that this Album Organ Needles is based upon. 
Adi Newton. London, May 2020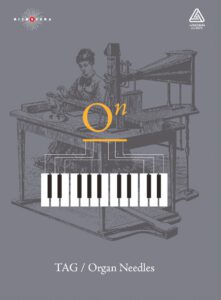 .

Subscribe to our newsletter

If you are interested in this content and would like to stay up-to-date on new Rizosfera productions, events and other information, you can subscribe to our newsletter and we will send you an email from time to time with a summary of the latest news you may have missed.