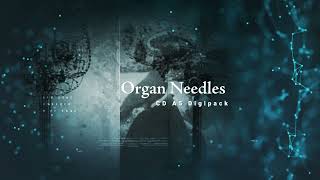 ---
Adi Newton is the extraordinary frontman and vocalist of Clock DVA, one of the pioneering bands of the industrial and post-punk scene of the 80s. Over the last 40 years his artistic, esoteric and multimedia productions have been enriched and diversified enormously, and have led him to found his own music and post-media label ARMComm as well as the media company Anterior Research. Thanks to these operational tools, Adi Newton has increased his musical and conceptual proposal with works of great depth under the name of The Anti Group (TAG) and TAGC, while continuing his activity as Clock DVA, and he has undoubtedly become a central point of reference in the global electronic scene. It is with pleasure that with Organ Needles we announce the first co-production between ARMComm and Rizosfera, under the new label ARMComm Europe. The latter will deal with musical and multimedia productions related to the sonic and theoretical universe of Adi Newton, Clock DVA, The Anti Group and all the collaborations born in the postpunk-industrial culture with European visual and sonic research.
---
Tracks
5
AL-JABR OF DESIRE
AN/ST/DK
5' 18''
8
ELEVATION FOR R M BUCKE
AN/CMVH/BL
10' 00''
10
CHANCE OPERATIONS III*
AN/JD/TMM
4' 15''
11
STEREOSCOPIC POINCARÉ
AN/MR
7' 32''
12
THE TENANT (le Locataire Chimérique)
AN/MB
4' 32''
Total Time: 76'17''
*Exclusive to this CD
---
THE ANTI GROUP :: THE CONTRIBUTORS ::
Adi Newton
Jack Dangers
TeZ Maurizio Martinucci Mykel Boyd
Shara Vesilenko
CM Von Hausswolff
B J Nilsen
Stephen Thrower David Knight Coagulant
Mauricio Reyes
Bob Lukomski
---
.

Subscribe to our newsletter

If you are interested in this content and would like to stay up-to-date on new Rizosfera productions, events and other information, you can subscribe to our newsletter and we will send you an email from time to time with a summary of the latest news you may have missed.